Dana Awartani On Preserving Cultural Identity, Tradition and Championing Female Empowerment Through Art
December 8, 2021 - BY Ayesha S. Shehmir for Harper's BAZAAR Arabia
Dana was magnetically drawn to geometry without even knowing it, and her passion was in its infancy in the midst of a contemporary art degree at London's prestigious Central Saint Martins. "I look back at my work then and it was inspired by geometry to an extent, but once I started my master's degree, I completely fell in love with it," she admits, reminiscing about a research travel trip to Alhambra in Spain. "This, for me, was one of the first monuments that I really looked at and appreciated. I love geometry in architecture and I think maybe just growing up in the Middle East, I was accustomed to seeing geometry and aware of it subconsciously."
Long before Saudi saw a sudden surge in its art scene, there was only a handful of galleries, and a very small, grassroots community of art lovers that would gather for artistic exchange. Jeddah's Saudi Art Council, led by Her Royal Highness Princess Jawaher bint Majed bin Abdulaziz, was one of the few not-for-profit entities commissioning Saudi artists and flowering cross-cultural dialogue with collectors abroad, as well as inviting curators to participate in Saudi. "That was all we had, and it was very hard," Dana remembers.
Preserving the legacy of her matrilineal lineage, Dana made it her mission to rescue tradition. "In Saudi Arabia, there was no documented history of art, there was no Renaissance art, or modern art before the sixties, none of that. So my work is about developing a language of contemporary Middle Eastern art."
But what does this mean? What are the traditional artistic forms, cultures and identities that can be revived and championed in a contemporary way? These questions lie at the heart of Dana's art. In modern society – one that is so fast-paced, capitalistic and dominated by technology, a world where machines are replacing humans – the survival, and protection, of slow crafts became her life's ambition. Every artwork is unique and a celebration of traditional craft communities. "Everything is made with love," smiles Dana. "The process of making my artwork sometimes is more important than the end result. It's my journey of making it."
Today, Dana is installing an artwork in Riyadh for the forthcoming Diriyah Biennale in December; an installation which explores her mixed roots and female ancestry, paying homage to her Syrian grandmother and Syrian-Saudi mother. "As you know, I'm not just Saudi. I come from a really diverse background. I'm Palestinian, Syrian, Jordanian, too, so I'm really a very multicultural Arab. In this work, I'm looking at one of the UNESCO World Heritage Sites in Aleppo that has been heavily damaged and destroyed during the Civil War." Specifically, the Great Mosque of Aleppo; Dana is reimagining the courtyard of this historic site by using locally sourced materials such as clay to make mud bricks, reflecting the architecture of Riyadh's oldest houses. "What's interesting to me is that this mosque is a UNESCO World Heritage Site and so is Diriyah, so they're in conversation with one another."
Dana doesn't just see herself as an artist, but importantly, a craftswoman, too. "When I was doing my master's degree in traditional arts, they were training me as a craftswoman," she recalls, explaining that it wasn't about what she had to say as a contemporary artist; it was more about rigorously learning the techniques. "I fell in love with the discipline of the traditional arts because it's not something you learn overnight or from a one-week course, it takes years of training and I was just really drawn to the way of learning the arts – the process. It's humbly training under a master and it's also about keeping that tradition alive that, sometimes, a family would do for generations."
Seeing a group of Sufis make over 300 tagine pots a day in their pottery workshop during a trip to Morocco, Dana quickly learned that for a lot of Arab craftspeople, their work is a form of meditation. "The reason why it's seen as a form of meditation is because it's so repetitive," she enthuses. "You're doing the same thing over and over using your hands. It requires the focus of your mind and your body at the same time and nothing else can interfere." A Rumi poem springs to her mind: "Let the beauty we love be what we do. There are hundreds of ways to kneel and kiss the ground."
This is exactly why Dana's work endeavours to uplift traditional craft communities, who have sadly suffered a major decline globally. "Before, craftsmen used to be supported, they had patronage. The royal courts would support them and that's how they made a living." Now, regrettably, a lot of craft communities – which Dana witnessed first-hand in Morocco and India – are losing their knowledge. "This is because there is no more money being appreciated in their skills and so they choose to work in other industries that provide better pay instead. No one pays anymore for beautiful handmade craft objects. That knowledge is dying, and I think it's really important to preserve it. It's part of our cultural identity."
Injecting this history into her surroundings has proven an integral part of Dana's purpose as an artist. Her mission, since making art in the Kingdom for a decade, has been to educate local communities about the value of studying and deeply understanding Saudi's identity. "Why did I have to go to London to do a master's in traditional Islamic arts?" she challenges; a question often lurking in her mind. "Why is that not something that we have here? In fact, why is art education about geometry and Islamic design not something we have in a lot of Arab countries?"
That being said, with more and more progressive reforms under way, she remains optimistic about the country's future. "There's definitely been a shift in terms of having the Ministry of Culture and different initiatives that are commissioning and supporting artists. I know in Riyadh there's a lot more focus on supporting the artistic community by having warehouses that they're renting out for artists to work from studios. I feel there's a huge shift and appreciation for the artists which wasn't there before. Telling society that 'I am an artist' was not generally understood – what does it mean to be an artist? Can you really make a livelihood from being an artist? It wasn't really respected but I feel now that's changing," she laughs. "The changes in the country have been quite a culture shock for me, but in a good way. Saudi has so much potential, if we just look at the tourism industry for example, places like AlUla have been here since I was growing up but I didn't even know! There's so many natural wonders in Saudi, there's a lot that the country has to offer and I'm glad that they're tapping into it now and opening it up to the world."
Saudi is in the midst of another major movement alongside these changes: the increasing rights of women, evidenced by lifting the ban on female drivers, ending male guardianship and encouraging women in the workforce. "Seeing the support for women is huge and very close to my heart," emphasises Dana, noticeably a breath of relief for her. "In Saudi, women are very hardworking, very intelligent. And they should be given opportunities. I think there's only positive growth that will happen. What I want for Saudi is to continue the way it is – opening up to the rest of the world, making it more accessible, more international. I want Saudi to hold on to the identity of what it is – the culture and the values of the country, while also opening up, because I think having a more international community will bring more opportunities and more growth."
Dana's 2020 work Listen to my words, an intimate marriage of poetry and geometric symbolism, is a testament to the fact that despite being underrepresented for centuries, powerful women did actually exist in history. The voices of poetesses up to the 12th century are unleashed once again as they are recited by modern-day Saudi women.
"In every aspect of life, there was a 'place' for a woman. I always found that uncomfortable because my family is not like that – we are a heavily female-dominated family." Thirteen female cousins, to be precise. "We're all very strong, independent women who are well educated – my parents, uncles and aunts believed in the value of educating women. A lot of my work does look at Arab poetry and the majority of poets I come across are male – the obvious famous ones being Rumi and Hafez. I just felt there wasn't a strong tradition of female poets." That was until she stumbled upon a book by serendipity, The Poetry of Arab Women: A Contemporary Anthology, opening up her eyes to literary traditions that are still virtually unknown to the West. "I was blown away," she expresses in awe. "I could not believe women from this area of the world would speak like that so openly. So I thought it was important to give them awareness, and show society that this is how women were."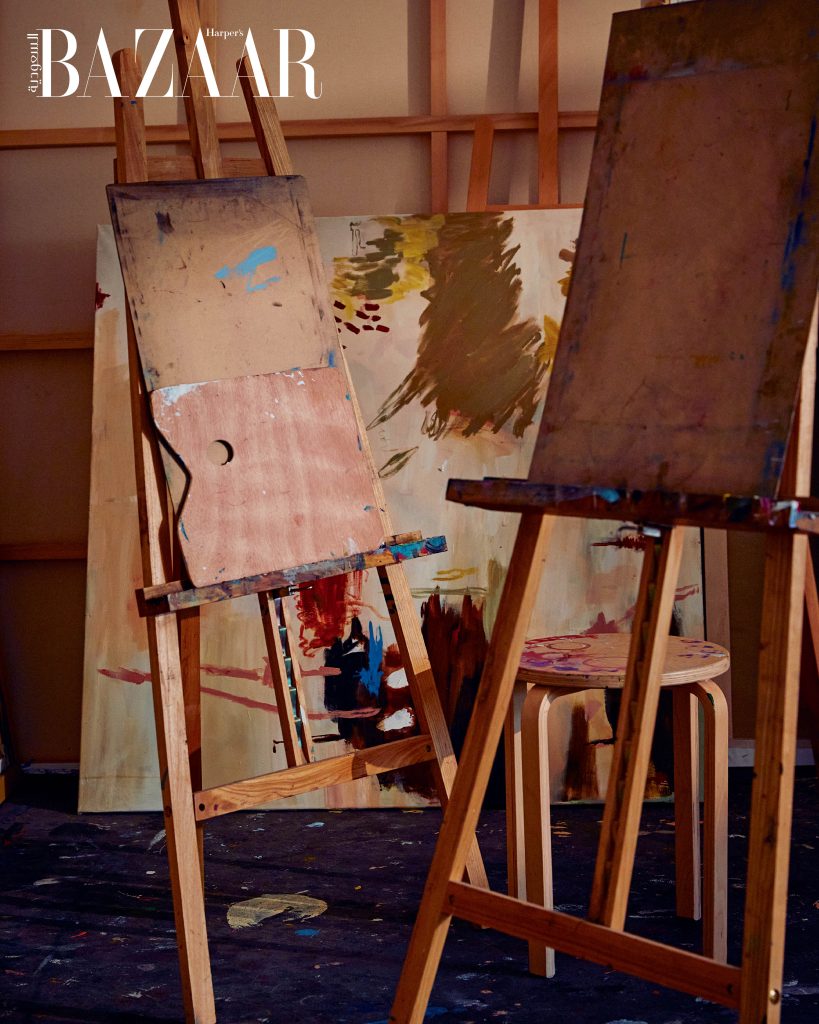 It's clear that for a woman to have her voice heard through art is Dana's dream come true. "Being an artist does give you power because people listen to what you're saying. I feel art is a form of empowerment for a lot of women here, and I also feel there's a responsibility for them. The artistic practice of women here is very varied; some of them look at architecture, some talk about social issues. I talk more about the cultural side. I think art is a way for the international Western society to understand Saudi Arabia more through the lens of an artist."
It's true, one of the most meaningful ways to appreciate a country's cultural identity is through its artists. Saudi is thriving, and, in Dana's eyes? "It's only up from here."
Back to News